Electronic Entrance Gates and Parking Systems
Security Access Controls and Fence is a trusted and established supplier of swing gates, slide gates, barrier gates, pedestrian gates, parking gates, and fences for gated communities.
We sell and service ornamental decorative gates, industrial slide gates, gate operators, and access control systems for residential and commercial applications. Our products and expertise are being used on the highest security applications in the area, and by discriminating homeowners everywhere in southeastern Michigan.
"Osco" Gate Entrance and Parking Systems
Card Access Systems
Keypad Access Systems
Radio Controls
Biometric Access Controls
Electronic Locks


Security Access Controls & Fence, LLC is a member of the AFA and the Chamber of Commerce


Our Suppliers







Quality Service
We service what we sell. We offer complementary tech support and 24-hour emergency service. Preventative maintenance programs are also available.
learn more
Custom Iron Gates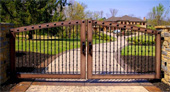 view

Security Access Controls & Fence is a Michigan (MI) based supplier of electronic security entrance gates and parking systems
Licensed and Insured